---
UPDATES
---
December 2021
Hussein Al-Sheikh Tweets Promise of 550 "Family Reunions"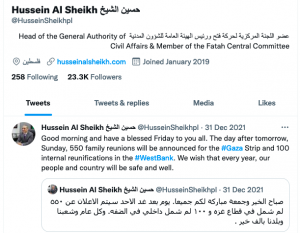 Will Israel Make Good on the PA's Residency Promise?
By Friday the activists of the movement "Family Reunification: My Right" will know whether the promise made to them at the beginning of the week will be kept. By the end of 2021 they will know whether they, and like them thousands of spouses and parents of Palestinians in the West Bank and the Gaza Strip, will finally receive residency status, and will no longer be defined by Israel as "illegal residents" in their homes because the entry visa in their passports expired long ago.

The promise was made by a senior Palestinian official. The problem is that only Israel can implement the promise. It is the only entity that decides who, when and how many nuclear Palestinian families will be entitled to have Mom or Dad receive residency status in the Palestinian territories it occupied in 1967.
Read full article by Amira Hass here (published 28 December 2021).
Palestinian-Americans to be allowed to land at Ben-Gurion in order to advance negotiations on US visa waivers for Israelis
Israel has informed the US that Americans of Palestinian descent will be allowed to land at Ben-Gurion Airport as negotiations continue for a visa waiver for Israelis visiting the US, Army Radio reported on Sunday. The decision was made after discussions by the Shin Bet and the defense establishment, although it is still unclear what the inspection for these citizens will be at the entrance to the country.
Read full article here (posted 26 December 2021).
An Israel Exception to US Visa Waiver Program Requirements



Rosen-Scott et al letter to Blinken & Mayorkas: On 12/15, US Sens. Rosen (D-NV) and Scott (R-FL), along with 16 bipartisan Senate cosigners, sent a letter to Homeland Security Secretary Mayorkas and SecState Blinken "in support of certifying Israel as an eligible country for participation in the Visa Waiver Program (VWP)…" The letter offers a number of arguments for why this certification would be good for the US, none of which have anything to do with the actual legal requirements to qualify for the program [In tweets about the letter, Rosen emphasized that "Israel is one of our closest allies and an important trading partner. Adding Israel to our Visa Waiver Program will benefit our economy and enhance our national security" and Scott argued that "We must make clear that the U.S. stands & supports our great ally & the Jewish people." Again, these arguments have nothing to do with the actual requirements for qualification for the VWP. In particular, the letter (and tweets) ignore the fact that Israel does not meet the requirement for reciprocal treatment of U.S. citizens (with respect to entry, Israel systematically profiles/discriminates against Muslim Americans and Arab Americans). Which means, in effect, that these members of Congress are asking for an Israel exception to the VWP requirements – one that would, in effect, hold Israel to a lower standard than other nations by allowing its citizens to travel freely to the US without visas, while giving a green light to Israel systematically discriminate against some American travelers based on their ethnicity/religion.
Read full report by Foundations for Middle East Peace and find links to further information here (posted 23 December 2021).
How Israel Expelled Me, a German PhD Student, for Something I Had No Intention of Doing
At Ben-Gurion Airport they yelled at us and threatened us as we were accused of  'planned participation in human rights demonstrations' – something that should be allowed in a democratic country anyway.

… The interrogator threatened us with "a 10-year travel ban and being marked as an international security risk." Somehow, despite knowing that this was only a threat, the prospect was terrifying. One interrogator kept yelling at us as they kept calling us liars.

It was like a movie, but more real and far more scary. We found ourselves captive in a game of good cop/bad cop…. They even tried pitting us against each other, saying the other had confessed and we could stop lying now as they already knew. I also had to hand over my phone to let the interrogators scan my Facebook feed.

At the moment I still can't tell if and how the academic cooperation between my university and Birzeit University can continue if physical meetings remain impossible.
Read full story by Sarah Rueller, researcher at University of Siegen, Germany here (published 19 December 2021).
---
November 2021
US visa exemption for Israelis not before 2023

The process granting a visa exemption for Israeli travelers to the US will not be finished before 2023, Interior Minister Ayelet Shaked said after a meeting with US Secretary of Homeland Security Alejandro Mayorkas.
Read full article here (published 18 November 2021).
Policy Analysis: Israel Is Not Eligible for Visa Waiver Program
The Visa Waiver Program is administered by the State Department and provides for reciprocal, visa-free entry to the United States and participating countries by their respective nationals. The program has stringent entry and security requirements. Despite Israel's long-standing desire to join the program, its discriminatory treatment of US citizens based on their ethnic and religious identities and their political viewpoints has led to a high rejection rate of US citizens seeking entry to Israel and to Occupied Palestinian Territory it controls, rendering it ineligible for participation in the program.     

The Department of State's international travel information for Israel and Occupied Palestinian Territory contains ample documentation of Israel's discriminatory entry regime. Among these findings are: 

Discrimination based on ethnic and religious affiliation. "
US citizens on the Palestinian population registry are not allowed to freely enter Israel.
US citizens on the Palestinian population registry are often denied the use of Israel's airport.
Israel frequently denies entry to US citizens who express solidarity with the Palestinian people, infringing upon their freedoms of association and speech.
Israel often denies entry to US citizens who refuse to give access to their social media and email accounts for its purpose of attempting to determine their ethnicity, religion, and political viewpoint.

…[L]ast year, Israel rejected for entry 6.7 percent of US citizens, more than double the percentage of rejections allowed under the terms of the Visa Waiver Program. 
Read full analysis here (published 14 November 2021).
---
October 2021
Israel's 'gesture' to Palestinians reveals the extent of its control over the West Bank and Gaza
Tuesday's [19 October] announcement by Israel's Coordinator of Government Activities in the Territories – that Palestinian residency will be granted to 1,200 people who have been living in the West Bank or Gaza Strip with their families for many years – worried and confused the people most concerned with the issue.

Among them were activists in the Family Reunification – My Right movement, whose protests over the past year put the residency issue back on the agenda of coordination between the Palestinian Authority and Israel. The activists said there are many more people waiting for residency in the West Bank and Gaza than just 1,200…. The ministry never gave an official number, but from conversations with officials in the PA's Civil Affairs Ministry, the activists understood that residency would be granted to around 5,000 people, in several stages. It now turns out that the number is much lower.

"An Israeli defense official said he doesn't know where the number 5,000 came from, but at the moment, the government has decided to approve changes in the Palestinian Population Registry for a total of only 4,000 people. This means that the Palestinian Interior Ministry will now be able to issue Palestinian identity cards to some, and update the place of residence on existing ID cards of others.

A statement issued by Al-Sheikh on Tuesday said this was just the first installment. But the [Israeli] defense official said he isn't currently aware of any further installments.

Moreover, only 1,200 of these 4,000 people are actually being granted residency. For the other 2,800, Israel is merely letting the PA change their place of residence on their ID cards. These 2,800 are registered Palestinian residents who were born in Gaza and have been living in the West Bank for 15 years or more. Until now, Israel hasn't approved their change of address, which greatly restricts their freedom of movement within the West Bank…. The defense official also said that the 442 Palestinian adults who received residency last week – all of them people whose parents are already residents – are included in the 4,000 as well.
Read full article by Amira Hass here (published 20 October 2021).
Palestinian Civil Affairs list of approved lem sheml  applicants
موافقات الهويات وتغيير العنوان
Find full list of names here (published 18 October 2021)
The Struggle for Palestinian Family Unification Succeeds –    Haltingly, Little and Late
Instead of keeping to its agreements, Israel offers 'a gesture' in the form of Palestinian IDs to people without status in the West Bank and Gaza. Still on hold is family unification for residents of the territories married to Israeli citizens.

For 442 adult Palestinians, October 11, 2021 will be remembered as a happy day: They were born to registered Palestinian residents of the Gaza Strip and the West Bank, but for various reasons they were not included in the Palestinian population registry before reaching age 16.

The granting of residency status [to a reported 5,000 men and women married to residents of the West Bank and Gaza] was one of the promises of "easements" or relief from Defense Minister Benny Gantz to Palestinian President Mahmoud Abbas and his civil affairs minister, Hussein al-Sheikh, at their meeting in Ramallah in August. But the term "easement" (hakalot in Hebrew) is an exercise in whitewashing.

The setting of a 5,000-person quota and the term "easement" shows that an unknown but probably high number of other spouses will remain in the same conditions of uncertainty and draconian travel restrictions for many years, until the next "easement." For this reason, many others will be deterred from marrying whom they want if he or she is not an official resident, or they may decide to move abroad.

And yet, it's doubtful whether even this "easement" would have been granted if not for the movement Family Unification – My Right, which was launched this year by those affected by the freezing of the process.
Read full article by Amira Hass here (published 13 October 2021).
Palestinian Civil Affairs announces approval of lem sheml  for 442 individuals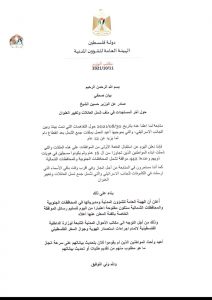 Read full list of names on Civil Affairs FB  (posted 11 October 2021).
---
September 2021
Israeli Control of the Palestinian Population Registry
Israel's Gaza-West Bank separation policy seriously impacts basic human rights enshrined in international humanitarian law, international human rights law and Israeli constitutional law. Primarily affected is the right of every person to move freely within their country of residence and freely choose where to live there. The violation of this right often leads to violations of the rights to family life, health, education, a livelihood and freedom of occupation.
Read full press release by Hamoked Center for the Defense of the Individual here (posted September 2021).
---
August 2021
PA's Hussein Al Sheikh Tweets Resumption of Family Unification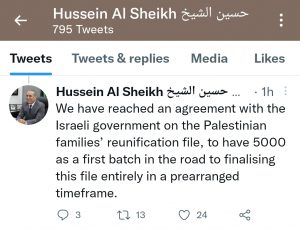 Posted 30 August 2021
Flying Abroad Without Knowing if You'll Be Able to Return Home
Friendly Western countries are silent and paralyzed in the face of Israel's discriminatory policies against their citizens who are married to Palestinians in the occupied territories.

A letter I received sheds light on yet another dark corner of European collaboration with Jewish-Israeli apartheid. This is what was sent to me…: "I'm a German woman who has been living in the West Bank for about 18 years. These days (namely, during the period of the coronavirus) we (wives of Palestinian residents) have been encountering difficulties whenever we have to travel, to return, to renew our visa … and then we discover that we are not allowed to return … I wonder if you could help us, advise us as to how to continue….

"Whenever we turn to the German representative office in Ramallah and ask them for support or assistance – we're told that they can't do anything. It's very frustrating."

If she were married to an Israeli citizen, the writer of the above letter would long ago have received residency status, or at least a multiple-entry visa…. But because her partner is a Palestinian from the West Bank, Israel makes sure to discriminate against her. This is how it does that:…
Read full article by Amira Hass  here (published 23 August 2021).
Questions for the Palestinian Minister of Civil Affairs
In 2000 Israel unilaterally discontinued the family reunification process, which was supposed to take place by means of coordination between the two sides. In 2008, as a favor and a gesture to Abbas, Israel granted Palestinian residency status in the context of family reunification to 32,000 people – and that was after petitions by Hamoked – Center for the Defense of the Individual, as well as public and media activity by families who were negatively impacted. On what occasions since then did your ministry demand a resumption of the process? Did you submit a written demand to the Israeli side for a resumption of the family reunification process, or was it only conveyed orally?

In response to attorney Adi Lustigman, to a request based on the Freedom of Information Law, the office of the Coordinator of Government Activities in the Territories said in December 2020 that since 2000 the Palestinian side has not demanded a resumption of the work of the joint committee to restore residency status to those who had it revoked by Israel from 1967 on. Is that true? …

Why are Palestinians who have been living in the West Bank for 20 or 30 years without residency status forced to receive assistance from Israeli lawyers (Palestinians and Jews) and to pay out of pocket – rather than being entitled to legal representation by the Civil Affairs Ministry?

How many unanswered requests for family reunification can be found in your ministry? When did your ministry receive the first still-unanswered request, and when did you receive the most recent ones?

Is it true that you have stopped transmitting requests for family reunification to the Israeli side, because those were your instructions from your Israeli counterpart (the Coordinator of Government Activities in the Territories), and therefore you also stopped accepting them? If that is not true – when was the last time you transmitted requests for family reunification to the Israeli side, and how many were there?
Read full article by Amira Hass here (published 2 August 2021)
---
July 2021
Haaretz Editorial: Illegal Residents Live in the Palestinian Territories, Too
Palestinians have a right to a family life and a right to live with their families in the places where they were born – the West Bank and the Gaza Strip. And Israel has an obligation to uphold this right. With or without any connection to the defense establishment's concerns that the Palestinian Authority might collapse, there is now an opportunity for the non-rightist parties in the governing coalition to embrace this human issue. The government must immediately restart the family reunification process and quickly clear the entire backlog of applications.
Read Haaretz lead editorial as published in English and Hebrew here (published 30 July 2021).
Haaretz: The Faces of Non-existent People – Palestinians Living Without an Official ID
On Sunday of this week, Hana Sha'aban visited the West Bank city of Ramallah for the first time in her life, even though she lives in Jamaleh, a village in the northern West Bank, just two hours drive away. It was only the prospect of attending a protest vigil in front of the Palestinian Civil Affairs Ministry that made Hana and her husband, Mohana, overcome their fear of passing through checkpoints to travel together to Al-Bireh.
Read full article by Amira Hass with profiles of "Non-existent People" here (published 29 July 2021)
Haaretz Opinion: A Short Distance Between the Occupiers and the Occupied
A small group of people marched down Nablus Street in eastern El Bireh this past Sunday afternoon. They met next to the Palestinian Civil Affairs Ministry. Their destination was the Israeli Civil Administration, located at the edge of a huge military base on El-Bireh land. The distance between the two buildings is about a kilometer (0.6 mile).

This is the second time since first organizing, some seven months ago, that they are not merely holding a protest vigil in front of the Palestinian ministry, but are marching toward the Israeli center of power…. The first time, in late June, a peeved soldier aimed his rifle and shouted that he would shoot if the marchers approached. This week, soldiers emerged from a military jeep standing at the edge of a field of thorns and calmly observed the demonstrators. Two of the demonstrators approached the concrete fence surrounding the building. Above it, on a staircase, stood two people. A conversation ensued. The two ran back to their friends and reported: "An officer in the Civil Administration asked us to give them a list of everyone here who requested family reunification.
Read full article by Amira Hass here (published 27 July 2021)
Haaretz: The Magic Word That Eases Israelis' Conscience
Israel does not hide the fact that it has discontinued family reunification, but at the same time it claims that applications (presumably humanitarian ones) that are submitted – are examined. However, sources in the Palestinian Civil Affairs Ministry say that in recent years the office of the government coordinator in the territories has forbidden them to pass on such applications. The Palestinian ministry obeys, and furthermore, judging by the experience of many residents and the lawyers who accompany them, it has stopped accepting any new applications altogether.

The logic: "The Israelis don't handle them in any case." Therefore, in legal terms there is no "exhausting of procedures," and the families that are willing to challenge the system cannot appeal to Israel's High Court of Justice….

So, here: I suggest to the Palestinian Civil Affairs Ministry that it immediately accept new or renewed applications for family reunification. We journalists will gladly document the transfer of the copies in binders to the Civil Affairs Ministry, which is about a kilometer away, as well as those sent by email. Let us see then what the justices will have to say.
Read full article by Amira Hass here (published 26 July 2021)
Haaretz: 'When I Fight With My Husband, I Have Nowhere to Go;' What It's Like Living as an 'Illegal Resident' in the West Bank
Once every three weeks, for over half a year, dozens of women, men and children gather for protest vigils in the West Bank city of El Bireh, under the slogan "Family reunification: my right."

…"Israel has put a stop to our lives. We practically do not live," they say. "We are the walking dead," is how one woman summed it up.
Read full article by Amira Hass here (published 23 July 2021)
Right to Enter: Spouses of Palestinians Make Public Appeal for End to Forcible Separation of Their Families
Ramallah, 22 July 2021: A public letter, signed by dozens of American, European and other foreign national spouses of Palestinians, was issued last Wednesday protesting Israel's continued failure to grant entry, renew visas, and issue permanent residency rights to foreign national spouses of Palestinians living in the occupied Palestinian territory (oPt).
Read the full press release here (released 22 July 2021).
Spouses of Palestinians Issue Public Appeal: End Family Separation
We, the undersigned, are international passport holders married to Palestinians in the Occupied Palestinian Territory (OPT), including East Jerusalem. Some of us reside full-time in Palestine with no residency rights, and some of us reside abroad.

All of us have been subject to discriminatory, cruel, and arbitrary practices by Israeli authorities that have caused us to face immense humanitarian difficulties such as being forcibly separated from our families in Palestine. In some cases, we have even been separated from our spouses and children for months after leaving the country  voluntarily or due to visa expiration.
Read the full letter including individual stories here (released 14 July, 2021).
The Washington Post: Israel Has Denied Certain Married Couples the Right To Live Together. Some Hide. Others Break Up.
EAST JERUSALEM — For two decades, Wafa Issa has lived like a prisoner in her own home on the gritty outskirts of this ancient city. Her world is her kitchen, her six children and the stables out back where the family keeps Arabian horses…..

It's a sacrifice Issa has made to be with her East Jerusalem-born husband, who is a legal permanent resident of Israel. As a Palestinian born in the occupied territories, she has not been entitled to join him despite their marriage. Even if her husband were a full citizen of Israel, the legal right to live with her family still would be out of reach.
Read the full article here (posted on 17 July, 2021).
Electronic Intifada: Israel's Apartheid Marriage Law Is the Essence of Zionism
Israel's parliament failed to renew the so-called citizenship law, an apartheid measure designed to limit the number of indigenous Palestinians in the country. Despite the tie vote of 59-59 in the Knesset on Monday, the law's failure was not due to any sudden awakening of anti-racism among Israeli leaders. Indeed the racist law is supported both by the new coalition government and the opposition led by Benjamin Netanyahu….

There should be no illusion that the lapsing of the law will offer any reprieve to Palestinian families divided by Israeli apartheid policies.

"Instead of the blanket prohibition on their receiving full residency rights, the families will have the option of applying for residency to the interior ministry, which will have to supply specific grounds if they deny them," according to Israel's Haaretz newspaper. The ministry will almost certainly try to smother them in bureaucracy and find every reason to deny them, but some may get through."

That's an optimistic assessment, not least because the interior minister is Ayelet Shaked, a member of Bennett's Yamina. Shaked, a former justice minister, is notorious for promoting a call for genocide of the Palestinians on the eve of Israel's 2014 massacre in Gaza. On Tuesday, Shaked accused the Likud opposition of teaming up with anti-Zionists and Palestinians in the Knesset to overturn "a law that is important for the security of the state and its character." She claimed this was a "big victory for post-Zionism."

That's an admission – even if unintended – that Zionism and racism are inseparable.
Read the full article here (posted on 6 July, 2021).
Haaretz: Will Defeat of Citizenship Law Bring Thousands of Palestinians to Israel?

Will the expiration of the temporary amendment lead to a change in the status of the 15,000 Palestinians who have applied to live in Israel?

No. The expiration of the legislation isn't retroactive, so it only applies to future requests by Palestinian spouses of Israelis to live in Israel. But Palestinians whose applications have been denied in the past will be able to submit a new one, which will have to be considered again.

With the expiration of the amendment, if Palestinians married to Israelis apply for the right to live in Israel, will their applications be approved automatically?

Not necessarily. As long as the temporary provision remained in force, any application submitted to the Interior Ministry was automatically denied unless the Interior Minister decided otherwise. When Arye Dery was interior minister, he approved the requests of several hundred Palestinians who had lived in Israel for many years. Now the situation is reversed.

Every application will be reviewed by the Shin Bet security service and if no security grounds are found to deny the application, it will be automatically approved – unless the interior minister decides otherwise. In other words, the current minister, Ayelet Shaked, now has the authority to reject applications for Israeli residency on an individual basis, and she is expected to do so.

So as a practical matter, the situation is not expected to change. Any application that can be denied will still be rejected, as was the case when the law was in force.
Read the full article here (posted on 6 July, 2021).
Rabet Docs: Fragmented Families
In this documentary two Palestinian siblings and a couple bravely share their stories of fragmentation and separation due to Israel's apartheid Citizenship and Entry Law, which has separated them form their loved ones, at times, during the most dire circumstances.  Palestinians' right to love, unite and be with their family is ruled by this law. It is essentially one rooted in intentional fragmentation, which prevents Palestinians from reuniting with family members or marrying depending on the ID they hold. The same law does not apply to Jewish citizens.  The law prohibits Palestinian citizens of Israel from granting residency or citizenship status to Palestinian spouses from the West Bank and Gaza, which essentially then affects every aspect of their lives including, employment, mobility, social welfare, and the citizenship status of their children. This law was first passed in 2003, by the Israeli Knesset. It was adopted as a "security" measure during the Second Intifada, which ended in 2005 — meaning it is a temporary law that needs to be renewed every year. Even after the Intifada ended, Israel continued to renew the law every year as a way to maintain racist demographic control against Palestinians.
See the film here (posted on 1 July, 2021).
June 2021
Haaretz: Israel's Cruel Citizenship Law Is Rotten, Racist and Unredeemable



If everything wrong with Israeli politics, policy and democracy could be packaged into a single issue, it would be the Citizenship Law, beginning with its name.

In fact, the law bans citizenship for spouses of specific Israeli citizens. A common nickname, the "Family Reunification Law," belies the fact that the law restricts residency for spouses of specific Israeli citizens. The "Law to Block Family Reunification," as some news commentators say, would be better. Calling it the "Racist Family Separation Law" or "Law someone hopes will cause Palestinian couples to leave" would be the most accurate. And gaslighting terminology is just the start of what's wrong.

The primary argument, that the law is essential for Israel security, holds little water.
Read the full article here (posted on 24 June, 2021).
Haaretz: Ban on Palestinian Family Reunifications: Demographic Warfare on Both Sides of 1967 Border
Nearly 20 years after this temporary law was passed, there is no disputing that it is a weapon in the demographic war Israel is waging to limit population growth among its Palestinian citizens and East Jerusalem residents. But the demographic war and its bureaucratic weapons, do not recognize the Green Line, Israel's 1967 borders. It's also being waged against Palestinian residents of the West Bank and Gaza Strip enclaves.
To this day, Israel controls the Palestinian population registry and decides who will receive a Palestinian ID card. Since it controls the borders, it also decides who will enter the West Bank or Gaza Strip, and for how long.
Read the full article here (posted on 21 June, 2021).
Haaretz: Israeli Apartheid? Look No Further Than This Racist Law

Some laws are a blot on Israel's law books, and until they are removed Israel cannot be considered a democracy. One of the more despicable ones is the law that prevents its Arab citizens from unifying their families.

When a discussion of whether Israel is an apartheid state arises, and its propagandists claim that it isn't, they cite as proof the absence of any racist laws in the country's lawbooks. The law that will most likely be reaffirmed this week, for the 18th consecutive time, is definitive proof of the fact that not only are there apartheid practices in this country, there are apartheid laws here as well. "It's best not to avoid the truth: Its existence in the lawbooks makes Israel an apartheid state," wrote Haaretz publisher Amos Schocken in 2008. Thirteen years have passed, and this statement is truer than ever.

….To put it briefly: After the Law of Return, this is the law that exemplifies more than any other the domination of Jewish supremacism in this country. A Jew can share his life with whomever he or she chooses, and an Arab can't. Just like that, despairingly and painfully simple. Any country that treated its Jewish citizens like that would be reviled.
Read the full article here (posted on 20 June, 2021).
---
April 2021
EU Observer: EU Parliamentarians Demand Israel Grant Permission for EU Observer Mission

The [Palestinian] legislative elections are taking place on 22 May. A presidential election is then also set for 31 July.

The European Union in February asked the Israeli government for permission to send an election observer mission to both. But they have yet to receive a response from Israel, derailing any chance of sending a fully-fledged mission for the 22 May polls.

(…) Meanwhile, some 57 MEPs are piling on the pressure for Israel to grant the EU permission to launch its election observer mission. All signed a letter demanding Aharon Leshno-Yaar, Israel's ambassador to the EU, green light the observer mission.

"I hope that we will get a response to it, especially since it was representative of the five biggest parties in the parliament," said Swedish socialist MEP Evin Incirs, who helped draft the letter.

Incirs said a number of MEPs have also demanded "an urgent meeting" with EU Parliament president, David Sassoli. The chair of the European parliament's delegation to Palestine, Manu Pineda, made similar statements. He pointed out that the Oslo Accords gave the European Union the obligation to coordinate observer delegations.
Read the full report here.
US State Department: 2020 Country Reports on Human Rights Practices: Israel, West Bank and Gaza
Arbitrary or Unlawful Interference with Privacy, Family, Home or Correspondence

Israeli authorities froze family unification proceedings for Palestinians in the West Bank and Gaza in 2000. In 2019 the Israeli High Court of Justice rejected all 18 of HaMoked's family unification petitions, stating that the petitions had been filed too late because they referred to old family unification cases. According to HaMoked, many of the petitioners were foreign nationals who had been living in the West Bank for 10-15 years with only visitor permits, who applied for family unification when they first arrived, and who never received an answer. …. In 2019, individuals from the West Bank and Gaza submitted 1,048 family unification applications, 584 of which were approved and 201 of which are pending, according to the Israeli government. In 2020, individuals from the West Bank and Gaza submitted 1,191 family unification applications, 340 of which were approved and 740 of which are pending, according to the Israeli government.

HaMoked stated there were likely thousands of foreign spouses living in the West Bank with their Palestinian partners, and often children, with only temporary tourist visas, a living situation that became more complicated under COVID-19 with the frequent closures of Allenby Bridge. HaMoked stated because these individuals used the Allenby Bridge to enter and depart the West Bank, the bridge's closure left them with the choice of either potentially overstaying their visa or attempting to travel through Ben Gurion airport, which they are not permitted to do. HaMoked claimed the military's refusal to review requests of foreign citizens for family unification is contrary to Israeli law and to Israeli-Palestinian interim Oslo Accords-era agreements. HaMoked stated the IDF rejected family unification requests based on a broad policy and not on the facts of the individual cases brought before it. As such, HaMoken stated, the practice does not appropriately balance relevant security needs and the right of Palestinians in the West Bank and Gaza–whom HaMoked stated were protected persons under international humanitarian law–to family life.

Stateless persons


According to NGOs, 40,000 to 50,000 Palestinians in Gaza lacked identification cards recognized by Israel. Some were born in Gaza but never recognized by Israel as residents; some fled Gaza during the 1967 war; and some left Gaza for various reasons after 1967 but later returned. A small number lacking recognized identification cards were born in Gaza and never left but had only Hamas-issued identification cards. Under the Oslo Accords, the PA administers the Palestinian Population Registry, although status changes in the registry require Israeli government approval. The Israeli government has not processed changes to the registry since 2000.

…There was no process for foreign spouses or foreign-born children of Palestinians to obtain permanent legal status in the West Bank. As a result many Palestinian children and young adults, especially those born abroad, are without legal status in the region where they have spent most or all of their lives.
Read the full report here.
---
March 2021
The Euro-Mediterranean Human Rights Monitor: The Gaza Strip – Undocumented Citizens
"…thousands of Palestinians – specifically in the Gaza Strip – are denied identity documents because they were not included in the Israeli-conducted population census in September 1967. These persons were able to enter Gaza either before 2000 through visitor permits given to them by the Israeli authorities and remain in Gaza, or after 2000 during the periods when the border wall between Egypt and Gaza was breached or smuggled through tunnels between the two sides."

"Over 5,000 Palestinians in the Gaza Strip lack identity documents and are thus deprived of their civil and political rights ever since they returned to the occupied Palestinian territories (oPt). Many of those, who suffer chronic and serious diseases, died after they had been unable to travel for medical treatment outside the oPt, considering the collapse of the health sector in Gaza, which is incapable of dealing with many difficult diseases that need delicate surgical interventions. They also cannot benefit from medical referrals to Israel, which are usually granted for those who need urgent operations or have serious or chronic diseases."
Read the full report here.
The New Arab:

'We've Been Locked Down for 15 years': The Palestinian Women Fighting Israel's Family Reunification Ban
Hend Almasri hasn't seen her mother in 10 years. In 2012, the Jordanian native moved to Palestine with her husband and children and applied for family unification. She is still waiting for her request to be approved so she can obtain a Palestinian ID and move freely within Palestine. "People are complaining about being in lockdown for one year," Hend Almasri said referring to coronavirus restrictions. "But we've been locked down for 10 or 15 years." Without an ID and with her travel documents expired, Almasri is confined to her home in Nablus. She can't get an education, open a bank account, get a driver's license, a SIM card or access public health care. When Almasri's mother became ill two months ago, she finally had enough. So Almasri – along with other women – began protesting on and offline for the right to family reunification.

The 'Reunification Is My Right' campaign launched in 2017. But the upcoming Palestinian elections have reenergised the movement, with the activists hoping the current political climate will draw attention to their cause. On 21 February, the campaign held a sit-in outside of the office of the Palestinian General Authority for Civil Affairs, the entity responsible for following up on family reunification requests with Israel.
Read the full article here (posted on 8 March, 2021).
Middle East Eye: Thousands of Unregistered Palestinians Fear Deportation, Separation from Families
The fear of being deported constantly haunts 50-year-old Anna Morales. For the 23 years that she has lived in Palestine, the mother of six has been unable to obtain a residency ID.  Anna, an American woman, who met and wed her late husband in the United States lives with her children in the village of Surda, near Ramallah in the occupied West Bank. Her husband passed away in 2015, leaving her worried about her children and their future.  She does not leave the village except on very rare occasions, and she never leaves the Ramallah governorate, for fear of crossing Israeli checkpoints which require identification to pass through. 

'I live in constant fear. Fear of being deported, fear of being distanced from my children, fear of having to leave them here on their own'

– Anna Morales

Anna is one of the thousands who live in Palestine awaiting ID numbers, which Israel refuses to grant after it froze the process of "family unification" and family visits at the outbreak of the al-Aqsa Intifada, or Second Intifada, in 2000. Despite the risks they face for speaking to the media and raising their voices on the issue, a group of women has begun breaking their silence by launching a movement called "Family Reunification is My Right." They have been active on social media and in organising protests.
Read the full article here (posted on 2 March 2021).
---
February 2021
Wattan: Stranded in their homeland, families appeal for family unification,  1 February 2021
يعيشون معاناة كبيرة جدا ويحرمون من رؤية عائلاتهم والتنقل بلا خوف داخل وطنهم
عالقون في وطنهم يناشدون الرئيس عبر وطن لتحريك ملف "لم الشمل" وتمكينهم من الحصول على هويات تعترف بوجودهم
Read and watch here.
الوزير حسين الشيخ: في كل جلسة مع الطرف الإسرائيلي نطرح ملف "لم الشمل" لكن التعطيل هو بقرار إسرائيلي وجزء من العقوبات علينا.. ماذا قال أيضًا؟..
Minister Hussein Al-Sheikh:
"In every session with the Israeli side, we raise the file
of 'family reunification', but the suspension [of hawiyeh issuance] is based on an Israeli decision and is part of the [Israeli] sanctions against us".
Watch here.
Right to Enter: Update for third states, 8 February 2021
The Right to Enter Campaign has obtained information from lawyers indicating that the Coordination for Government Activities in the Territories (COGAT) has automatically extended visas of foreign passport holders in the West Bank valid on 10 January 2021 up until 31 March 2021. Those who have received visas not restricted to the West Bank may not be eligible for this automatic extension. This information has not been published by COGAT on an accessible platform, and has not been made available to the campaign in writing. 

The Right to Enter Campaign therefore recommends consular and representative offices to obtain written confirmation of the above extension from COGAT, prior to informing their citizens.

The Right to Enter Campaign also urges third States to continue advocating for their nationals and for a transparent, consistent and lawful policy — and accompanying procedures — governing the entry into and presence of foreign nationals in the oPt. Timely publication on an accessible platform of all significant updates to visa policies and procedures constitutes an essential part of a transparent, consistent and lawful policy.
Read the full statement here.
---
December 2020
Haaretz: When Revocation of Palestinians' Residency Really Means Expulsion
In 1994 Israel revoked the residency status of 25,645 Palestinians born in the West Bank. That is almost one-fifth of the number of Palestinians whose residency status was revoked after the occupation of the territories in 1967: 140,000. …It's only clear that right before the handling of the population registry was transferred from the Civil Administration to the PA, civilian and military bureaucrats hastened to get rid of as many listed Palestinian residents as possible.
Read the full article here (posted on 21 December 2020).
Haaretz: Living in the West Bank – and in Limbo
Though we are due to relocate to the United States in less than three weeks, we are still waiting, hoping the Israeli military will grant us a permit to fly.
Read the full article here (posted on 18 December 2020).
---
November 2020
Right to Enter: Update for 3rd States, 29 November 2020
Visa renewals for foreign nationals residing in the oPt's West Bank have currently been pursued directly via the Civil Administration in Beit El in light of the end of Palestinian coordination. It is not clear yet if the visa procedures in place prior to the end of coordination will be resumed or not.

We are aware that a number of individuals previously denied visas were granted visas without being given any legitimate explanations for the previous denials, which often came at great personal and/or institutional costs. This highlights the arbitrary nature of such denials. Concerns have also continued as to arbitrary time limitations for the visas being issued (some valid for as little as 2 months) without specific justification.

Foreign nationals have also reported conditions that are currently difficult, if not impossible, to meet being attached to the issuance of visas – for example, requiring their exit from the country during the
pandemic, without any guarantee of their re-entry. The Right to Enter Campaign urges third States to advocate for their nationals and demand that Israel put into place a transparent, consistent and lawful policy — and accompanying procedures — governing the entry into and presence of foreign nationals in the oPt.
Read the full article here.
---
October 2020
HaMoked: Another Story of Coronavirus Border Closures, Restrictive Israeli Policies, and the Families Caught in Between
Originally from the Balkans, Anna (alias) lives in the West Bank with her Palestinian husband and their two young children. When the first Coronavirus lockdown ended in May, Anna decided to take her children for a short visit to her parents.

Anna and her children flew to Europe from Israel's Ben Gurion Airport. As they were leaving, the family was told that, because the children are Palestinians, they would not be allowed to return via Israel, but would have to return via Jordan and enter the West Bank through the Allenby Bridge Border Crossing. But here's the catch: due to Coronavirus, Jordan has closed the Allenby Bridge to regular traffic. It is only allowing pre-coordinated transit for Palestinians. But Anna is not a Palestinian. As a European, she is not currently allowed through Allenby.
Read the full article here (posted on 29 October 2020).
Al-Jazeera: Israel Stops Issuing Visas to UN Human Rights Workers in Palestine
Israel has stopped issuing visas to United Nations human rights workers in Palestine, forcing them to leave, while also banning a Palestinian pop star from returning home. Nine of 12 foreign staff from the Office of the United Nations High Commissioner for Human Rights (OHCHR) – including country director James Heenan – had to leave Israel and the Palestinian territories for fear of being undocumented after Israeli authorities refused to renew their visas.
Read the full article here.
Middle East Eye: Exclusive – Israel Stops Granting Visas to UN Human Rights Workers
The UN Office of the High Commission on Human Rights foreign employees are left in limbo amid Israeli crackdown on human rights monitors.
Read the full article here.
Haaretz: How Evangelicals Working in Settlements Bypassed Israel's COVID-19 Entry Ban
Despite most non-citizens being refused entry due to the coronavirus, a phone call to a former lawmaker and an application glossing over a key fact allowed 70 evangelical volunteers to receive visas in August… so that they could help out with the grape harvest at several settlements in the West Bank. The decision to grant entry to the evangelical group sparked outrage among Catholic organizations and churches active in Israel, whose requests to bring over volunteers and staffers have repeatedly been rejected since the outbreak of the pandemic.

Read the full article here.
Vice: Tens of Thousands of Palestinian Newborns Blocked from Traveling
A halt in security coordination between Israel and Palestine has left infants off of registration rolls and in limbo.

When Saleh Totah and his wife, Morgan Cooper, had their baby girl Lourice this summer, they couldn't wait to bring her to California to meet her maternal grandparents. But the couple, based in Ramallah in the occupied West Bank, quickly realised they faced an unexpected challenge: according to the Israeli authorities who rule over the Palestinian territory, Lourice did not exist.
Read the full article here.
---
September 2020
Haaretz: A Palestinian Student Wants a Visa to Europe? Let Him Do Research in Gaza
The Be'er Sheva District Court, sitting as an administrative court, dared to rule that S.O., a Palestinian doctoral student in engineering, must be allowed to leave the Gaza Strip for Tel Aviv in order to receive a visa for the European state in which he is meant to begin his research on October 1. But Israel is determined to block the 28-year-old Gazan man from realizing his dream. To this end, it enlisted its endless supply of time, resources, clerks, officers and jurists. So important was it for Israel to shoot down S.O.'s scholarship and his research that it hastened to appeal the Be'er Sheva court's ruling to the Supreme Court.

The Supreme Court justices did not disappoint.
Read the full article here.
National Public Radio: What Does It Take for a Palestinian American Baby to Travel from Israel to the US?



This summer, California native Morgan Cooper delivered a healthy baby girl at the home she shares with her Palestinian American husband Saleh Totah in the West Bank city of Ramallah. But according to Israel, which occupies the West Bank, their baby Lourice did not officially exist.

Since Israel occupied the Palestinian territories in 1967, Israel has kept track of their population. Now an estimated 70,000 newborns aren't in Israel's registry, and Israeli border authorities will not let them leave.
Read the full article here.
---
August 2020
Right to Enter: Update for 3rd States, 12 August, 2020
We further stress that these latest problems occur in the context of Israel's continued freeze on family unification for families with foreign nationals, and Israel's on-going failure to provide a transparent, internationally lawful and consistently applied policy and accompanying procedures for foreign nationals seeking to enter or extend visas in the oPt. This situation continues to cause harm to local institutions, including institutions of higher education, as well
as the break-up or coerced emigration of families.

We therefore urge third States to scrutinise the international lawfulness, the clarity and transparency, and the consistent application of any new policy and accompanying procedures, as well as any temporary measures issued and applied by the GoI/COGAT for the purpose of regulating entry and presence in the oPt, and to formally object to any attempts by the occupying power to regulate entry and presence of foreign nationals in the oPt in a manner contrary to its international obligations.
Read the full letter here.
Journal of Theoretical Inquiries in Law: How the Law of Return Creates One Legal Order in Palestine
A case-law study regarding family life between spouses and their children in Palestine: "Contrary to the legal literature, the Israeli Supreme Court has never recognized the right of family life of the Palestinians as a legal right and the deportation, fragmentation and separation of Palestinian families has been its main policy since 1948."

"As Justice Cheshin ruled in Adalah that the "key to the gate" belongs to the absolute discretion of the state and is not a matter of insiders' rights, Justice Shamgar, in 1986, stated:

The State of Israel is not willing to accept a situation in which any resident of the region who so wishes can marry a woman from outside and bring her here, or any [female] resident of the region, or her family, can decide that she will marry someone living abroad and bring him to the region. The decision about who will enter and who will settle in one of the regions (Judea and Samaria, or the Gaza Strip) is a matter for the government's decision, and no resident is entitled to impose his private decision on the government in this matter.
Read the full article here.
---
June 2020
Right to Enter: Letter to 3rd States Regarding Visa Situation of Foreign Nationals in the oPt, 22 June 2020

"It would appear, in light of the above facts, that reliable written guarantees are needed from the competent Israeli authorities that, in the absence of coordination and functioning mechanisms for visa extensions, foreign nationals overstaying valid visas will not be penalised. This would be the only way for foreign nationals to currently rest assured that they can stay with their families in the oPt, remain in active employment with their relevant institutions and organisations in the oPt, and /or avoid hazardous travel with no guarantee of an ability to coordinate return at any time in the reasonable future. It would also appear that guarantees would only be reliable if they do not in any way depend on an applicant's ability to obtain any documentation from the PA in relation to application submissions."
Read the full letter here.
---
May 2020
Right to Enter: Letter to American Citizen Services, US Embassy Jerusalem
"We are writing regarding information sent to US citizens on 30 April about the COVID19 extension of Israeli visa validity and in particular the notice that the automatic extension to 30 June does not apply to visitor permits for US citizens in the West Bank. We would like to understand the source of this information as it contradicts information provided by Israel's Civil Administration and the Coordination of Government Activities in the Territories (COGAT)…"
Read the full letter here.
---
November 2019
Right to Enter: "Birzeit University Continues To Lose International Faculty as Israel Persists in Discriminatory Policy"
"Heightened restrictions on Birzeit University's right to hire and maintain international faculty persist into the 2019-2020 academic year. Israel has escalated what can only be understood as a policy whose ultimate goal is the elimination of any international faculty presence at Palestinian universities."
Read the full statement here.
Human Rights Watch: "Israel: Supreme Court Greenlights Deporting Human Rights Watch Official."
"The Supreme Court has effectively declared that free expression in Israel does not include completely mainstream advocacy for Palestinian rights," said Kenneth Roth, executive director of Human Rights Watch. "If the government now deports Human Rights Watch's researcher for asking businesses to respect rights as we do across the world, there's no telling whom it will throw out next."
Read the full statement here.
Washington Post: "Israel Supreme Court Allows Expulsion of Human Rights Activist."
"The ruling represents the likely culmination of the protracted effort to remove Omar Shakir, a U.S. citizen, and marks an escalation in Israel's determination to prevent critics from operating in the country under new laws that equate support for the boycotts, divestments and sanctions movement (BDS) with challenging Israel's right to exist."
Read the full piece here.
---
October 2019
Right to Enter: New (Illegal) U.S. Embassy in Jerusalem Impotent To Serve U.S. Citizens Under Israeli Jurisdiction
"Recent email replies from the U.S. Embassy to affected US citizens reveal volumes regarding a U.S. foreign policy gone astray. While the current U.S. Administration has obliged a fanatic right-wing Israeli government with its most outrageous requests (closing the U.S. Consulate in Jerusalem and moving the U.S. Embassy are just two of many examples), that same Administration is completely impotent to serve the interests of its own citizens in Israeli-occupied territory. Rather, like prior U.S. Administrations, the Trump administration is not even able to get the Israeli authorities to reply to inquiries on behalf of its own citizens. The U.S. has failed to secure satisfactory resolution to multiple complaints of arbitrary and discriminatory visa procedures and treatment of its citizens at Israeli-controlled borders for well over a decade."
Read the full statement here.
---
August 2019
Haaretz: "Israeli University Heads Say Won't Intervene in Discrimination Against Palestinian Schools."
"Committee says refusal to grant visas to guest lecturers is not in its purview. Hundreds of academics ask top officials to match guidelines at West Bank institutions to those at Israeli ones."
Read the full piece here.
Haaretz: "Israel Willing to Let Gazans Who Want to Emigrate to Fly Out via Its Territory, Official Says."
"Israeli authorities are willing to allow Gaza Strip residents who want to emigrate to fly out via Israel if a country is found to accept them, a senior government official said on Monday. According to the official, Israel would even pay for the flight. The official added that the government had asked a few countries, including some in the Middle East, whether they would be willing to accept Palestinians from Gaza, and was turned down."
Read the full piece here.
National Public Radio: "Reversing Earlier Ban, Israel Permits Limited Visit For Rep. Rashida Tlaib."
"Israel said it would allow entry to the Michigan congresswoman to visit her aging grandmother in the West Bank after announcing earlier that it would bar her from visiting."
Listen to the full piece here.
Truthout: "Israel Systematically Blocks International Scholars From Reaching Palestine."
"In the Occupied Palestinian Territories, however, Israel routinely blocks international scholars from reaching Palestinian universities and places severe restrictions on their movement, preventing them from fulfilling their scholarly duties and depriving Palestinian students of critical educational opportunities. These actions infringe on Palestinians' right to education as enshrined in the Universal Declaration of Human Rights."
Read the full piece here.
LRB Blog: "Concrete Conditions." 
"Restrictions on what, and who, is allowed into the West Bank aren't new. But it's getting harder for foreign academics to teach at universities in Palestine, according to the legal rights groups Adalah and Al-Haq. Haneen Adi is a US citizen and English literature teacher at Birzeit. In November 2017, the Israeli authorities wouldn't renew her visa. She has not left the West Bank since. She has missed her sister's wedding and the death of a relative. Her father was denied entry when he tried to visit her."
Read the full piece here.
Al Fanar Media: "Palestinian Universities Say Israeli Restrictions Force Foreign Professors Out."
"The Israeli authorities increasingly are refusing to issue work permits for foreign academics who work in Palestinian universities in the occupied West Bank, education officials and human rights organizations say. Some 32 foreign and Palestinian professors and lecturers with foreign passports working at eight Palestinian universities have been subjected to Israeli restrictions on visas to enter or stay in the Palestinian territories, according to a study published last year by the Palestinian Ministry of Education and Higher Education."
Read the full piece here.
---
July 2019
Times Higher Education: "Israel's restrictions on international academics at Palestinian universities must be opposed."
"This is more than simple harassment. These actions are intended to show the deep reach of the Israeli state into all aspects of Palestinian life. In this case, it is interference with whatever semblance of normal functioning Palestinian universities might have. It sends the message that Israel does not want international scholars in the Occupied Palestinian Territories, and that if one wants to travel there to teach, Israel will make that as hard as possible….

While the denial of visas to international scholars might seem a small inconvenience by comparison, put into the context of the overall weakened conditions of Palestinian schools and universities, as well as the totality of deprivation the Palestinians suffer under, it is a terrible thing indeed. The international community, especially the international academic community, needs to wake up."
Read the full piece here.
The Italian Society for Middle East Studies (SeSaMO), Statement of Solidarity:
"Our academic society deeply believes in scientific collaboration, and in the need to guarantee the safety of researchers as an indispensable prerequisite for any kind of scientific collaboration. SeSaMO auspicates that the Israeli authorities will ensure full freedom of movement and of work to all the international colleagues teaching in the occupied Palestinian territory."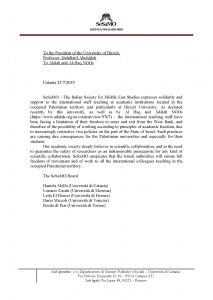 .
Inside Higher Ed: "No Passage to Palestinian Universities."
"Not a single international faculty member, with the exception of those directly employed by foreign government-sponsored programs, was issued a visa for the length of their 2018-2019 academic year contract," the university said in a July 20 press release. "As of press time, six full-time international faculty members contracted for the 2018-2019 academic year are without valid visas; another five — including a department chair — are overseas with no clear indications of whether they will be able to return and secure visas required for them to stay for the coming academic year. Over 12 departments and programs face losing faculty members in the coming academic year because of the Israeli policy."
Read the full piece here.
+972 Magazine: "Jordan turns back stateless Palestinian journalist Israel tried to deport."
"When al-Haruf was 12 years old, his Palestinian father returned from Algeria to Jerusalem with his children, although it took him years to formalize his children's residency status in the city. By that point, Al-Haruf was over 18 years old — too old to get status along with his siblings….

In 2016, Al-Haruf married an East Jerusalem Palestinian woman with whom he had a daughter. He applied for family unification, which was rejected on security grounds….

In his decision rejecting al-Haruf's request for an injunction, Supreme Court Justice Hendel wrote that the Interior Ministry admits that al-Haruf's Jordanian travel document does not constitute evidence of Jordanian citizenship. Nevertheless, Hendel wrote that "the state remains consistent in its claim that the applicant has some status in Jordan and that he can be sent there." According to his decision, the burden of proof is on al-Huruf and his attorneys to demonstrate that he lacks status in Jordan."
Read the full piece here.
Latest RTE Situation Update – July 2019
"Reports of maladministration and haphazard issuing of visas on part of the Coordinator of Government Activities in the Territories (COGAT) and Israel's Ministry of Interior continue. Family unification remains officially frozen. There have been reports of a foreign national who received a B2 visitor's visa, stamped "not permitted to work" on the basis of their employment with a local organization in the West Bank then being subsequently denied a visa extension due to "working" in the West Bank on that same visa. Visa processing times continue to be well over one month, with continued reports that people leaving the country in order to renew their visas are denied re-entry. Reports of other arbitrary entry denials continue, including reports of foreign nationals being refused entry on the basis that they had not secured prior "coordination" for entry into the West Bank from COGAT."
Download the full update here.
Adalah Press Release: "Israel forcing international lecturers out of West Bank Palestinian universities."
"Israel is refusing to issue work permits for international academics working at Palestinian universities in the occupied West Bank and is escalating a harsh visa policy that is forcing them to abandon their students and leave the country. Murky and arbitrary Israeli regulations leave international lecturers and their families in constant uncertainty and subject to deportation at any time.

Now, a Palestinian university in the West Bank, together with two Palestinian human rights groups, are taking legal action."
Read the full piece here.
الغد: إسرائيل ترفض تجديد تأشيرات المحاضرين الأجانب بالضفة
Middle East Studies Association Letter to Israeli Ministers:
"We therefore call upon you to ensure that these professors can renew their visas, and that the academic restrictions, whose sole purpose is to make it exceedingly difficult for foreign nationals to work in academic institutions in Palestine, be abolished immediately. We join the call from Birzeit University, Al-Haq, and Adalah–the Legal Center for Arab Minority Rights in Israel–for an immediate halt to this policy of targeting Palestinian academic freedom and Palestinian institutions of higher learning. We ask that Israel lift the restrictions preventing international academics from staying and working in the West Bank, refrain from imposing arbitrary restrictions on the duration of stay or extension of stay for international academics, and order the publication of a clear and lawful procedure for issuing entry visas and work permits for international academics in the West Bank, to enable the university to manage and maintain its academic freedom."
Read the full letter here.
Haaretz: "Israel's Academy for Indifference."
"Whether it's a lot or a little, what's important is not the individual numbers but the principle. If there were a clear and convenient procedure, similar to that in Israel, we can assume that the number of music teachers and lecturers of sciences or in various interdisciplinary tracks would be even greater, whether filling the currently missing positions or developing new fields. We can also assume that other Palestinian universities – which hire fewer foreigners, or none at all – would also like to expand and enrich their faculty with guests from abroad."
Read the full piece here.
Haaretz: "As Israel Tightens Entry Rules, Foreign Lecturers at Palestinian Universities Forced to Leave."
"He found that their visas aren't extended and they're required to leave before the end of the academic year, or they're not allowed to return for the next year. Some decide not to abandon their students in the middle of the year and are left without a valid visa. In fact they're imprisoned in the Ramallah enclave. They don't leave for fear that a soldier at a checkpoint will check their passport will order their deportation."
Read the full article here.
Middle East Monitor: "Israel restricting visas for academics visiting Palestine universities."
"One university particularly affected is Birzeit, a prominent institution located near Ramallah, in the occupied West Bank. An affiliate of Birzeit, the Edward Said National Conservatory of Music, "reported a 200% increase in visa denials over the past two academic years," Adalah and Al-Haq noted.

In addition, seven international lecturers working at Birzeit were forced to leave the country because their visas were not renewed, while a further two staff members were denied entry altogether."
Read the full article here.
University World News: "Israel blocks international academics in West Bank, Gaza."
"Two NGOs have accused Israel of preventing international academics from working at universities in Occupied Palestinian Territory by preventing them from entering the country and refusing to renew visas for those with teaching contracts in the West Bank and Gaza."
Read the full article here.
June 2019
Haaretz: "Europeans Seeking to Live With Palestinian Kin Must Face Long Arm of Israeli Bureaucracy."
"Indeed, as Foreign Ministry spokesman Emmanuel Nahshon told Haaretz on Wednesday: 'After postponements (not by the Foreign Ministry), a work meeting has been set at the Foreign Ministry next week on the issue with a number of consuls from Europe. Representatives of the Coordinator of Government Activities in the Territories have also been invited, who will consider the issues raised there involving their areas of responsibility.'"
Read the full piece here.
---
May 2019
Haaretz: "What a Palestinian Woman Has to Do to Visit Her Native West Bank Village."
"And like tens of thousands of other "mixed" families in which either the husband or wife is not a permanent resident of the West Bank, they live in legal, social and psychological limbo. Over the years, and again last year, Haaretz has reviewed the policy towards these families, whose fate is in Israel's hands because it controls the Palestinian population registry and decides who is included and who isn't."
Read the full piece here.
Haaretz: "Israel Seeks to Block All East Jerusalem Family Reunification Hearings Over 'Workload.'"
"The protracted delays have caused difficulties for hundreds of families. Hundreds of children living in East Jerusalem don't have medical coverage because they don't have Israeli identity cards. Some parents encounter difficulties enrolling them for school, and older children are afraid of being alone on the street for fear of being picked up by police for lack of documentation. Some families are also forced to live apart until they get their answer."
Read the full article here.
April 2019
Haaretz Editorial: "You Married a Palestinian." 
"The Zoughbis and those tens of thousands of other families live in the West Bank – not Israel – so the consideration of "illegal immigration" is strange and can only indicate Israel's obsessive fear of Palestinian population growth. But a family's right to conduct its life as it chooses, where a couple chooses, is a basic human right. The new policy must be based on full recognition of this right."
Read the full piece here.
Haaretz: "This American-Palestinian Endangers Israeli Public Security."
"Zoughbi and I got married in 1990. As soon as we were married, we should have been granted some legal status which would have allowed me to reside in Bethlehem as his spouse. We did everything we were told to do and applied to the Israeli Civil Administration for 'family reunification status' … but every single application was denied. This, compared to my American friends married to Israelis who receive legal status and rights within the first few months of being married. The government of Israel has set up both systems, but the system set up for Palestinians was set up to fail. Sure, there is an application process, but when no one is approved, what kind of process is it, really?"
Read the full piece here.
Haaretz: "Hundreds of Gazans Asked to Celebrate Easter in Jerusalem – Israel Let 200 Go to Jordan."
Christians from the Gaza Strip used to receive a permit to visit the Church of the Holy Sepulchre and to participate in the ceremonies, but this year only 200 Christians over the age of 55 are being allowed to leave the Strip for the holiday – and only to Jordan, via the Allenby border crossing.
Read the full piece here.
---
March 2019
Haaretz Opinion: "A German Affair, Not Just a Love Story in Palestine."
"The diplomats did right to attend the hearing, since this individual case is tied to a general matter of principle: Why on earth does Israel forbid citizens of these countries to live peacefully and securely with their Palestinian spouses in Bethlehem, Ramallah or Jenin? Why does Israel discriminate against U.S., South American and European citizens, in comparison to other citizens of those same countries, only because they married Palestinians who are residents of the West Bank (and Jerusalem), and not Jews?"
Read the full piece here.
Press Release: "Israel High Court hearing in PIVOTAL CASE on FAMILY UNITY for Palestinians with foreign spouses in the oPt."
"On 28 March 2019, the case of Josefin Herbach and Abed Salaymah v. the State of Israel will be heard in Israel's High Court of Justice. The appellants, a West Bank ID holder and a German citizen, are petitioning for their right to live together in the occupied Palestinian territory (oPt). The Herbach/Salaymah request for a Palestinian ID, which will enable Josefin to permanently reside in the West Bank, was denied on the grounds that being married wasn't "sufficiently humanitarian" to warrant residency. The hearing is scheduled for 11:30 am, in Hall 3 of the Supreme Court in Jerusalem. The ruling will potentially address the right of Palestinian residents of the oPt to maintain family life with their foreign spouses in the oPt, and the ability of those foreign spouses to obtain a Palestinian ID in the oPt through family unification."
Read the full release in Arabic here and in English here.
Haaretz: "The Secret Palestinian Doomsday Weapon."
"Israel prevents Palestinians from living with their foreign partners, one strategy among many to expel them from their land and deny their rights because of 'political issues'"
Read the full piece here.
Haaretz: "Israel Seeks to Deport East Jerusalem Photographer to Jordan, Where He Can't Stay."
"The Interior Ministry has ordered the expulsion of Palestinian press photographer Mustafa al-Kharouf, 31, who was born in Algeria but has lived in Jerusalem with his family since age 12 and is married to a woman from E. Jerusalem."
Read the full piece here.
Haaretz: "He's Palestinian, she's German, but only an Israeli stamp lets them live together in the West Bank."
"Thousands of spouses of Palestinians are denied permanent resident status and must continually obtain entry visas and visitor permits, or suffer forced separations."
Read the full piece here.
The Real News Network: "Israeli Policies Force Family Separations." 
"Al Haq's director Shawan Jabarin discusses a new report exposing the complex system of restrictions Israeli authorities impose to control access to Palestinian territory and to stop family reunification. The consequences is to slowly force Palestinians out to preserve a Jewish majority in areas controlled by Israel."
Listen to the full interview here.
Reuters: "Israeli deportation hearing focuses on Human Right Watch official's tweets"
"The case hinges in part on Shakir's pro-BDS tweeting before he became Human Rights Watch's director for Israel and the Palestinian territories in 2016, and whether his statements after the appointment also constitute such support."
Read the full piece here.
---
February 2019
Press Release: "Petition to Israeli HC demands amendments to flawed policy for entry of foreigners to West Bank"
"A principled petition demanding that COGAT and the Civil Administration amend their "Policy on the Entry of Foreigners into the West Bank" was submitted to Israel's High Court of Justice on 18 February. The petition addresses numerous flaws in Israeli policy of issuing visas and how these violate both Israeli and international law. Among the amendments demanded were: clearly outlining terms for work and volunteer visas; granting foreign spouses of Palestinians the right to work; treating Jordanians wishing to enter or stay in the West Bank like citizens of other countries with diplomatic relations with Israel; granting foreign nationals multiple-entry visas; and nullifying the current restriction of work to five years and three months."
Read the full piece here.
972 Magazine: "Israel trying to deport stateless Palestinian journalist from Jerusalem"
"Mustafa al-Haruf has spent the last 20 years living in East Jerusalem, where he has a wife, daughter, and works as a photographer. Now Israel wants to deport him to Jordan, where he has no family or legal status."
Read the full piece here.
Latest RTE Situation Update – February 2019
"In a nutshell, no significant changes can be reported since our last update in August 2018, except for the deepening and expansion of the harm caused to the Palestinian population of the occupied Palestinian territory (oPt) resulting from Israel's continued obstruction of movement and access:

1.9 million Palestinians in Gaza remain in "lock down" for well over two decades running.

The freezing of family unification applications since 2000 continues – affecting tens of thousands of Palestinians in the West Bank, including East Jerusalem, and the Gaza Strip. 

Foreign nationals wishing to enter the oPt or secure visa renewals for the oPt are still without a clear, consistently-applied policy and accompanying procedures that are in accordance with Israel's relevant international obligations.

Israel continues to control the population registry for the oPt and to use it in a political manner, causing serious harm to the Palestinian population."
Download the full update here.
Al Haq: Engineering Community: Family Unification, Entry Restrictions and other Israeli Policies of Fragmenting Palestinians
This report broadly examines how Israel has defined belonging to mandate Palestine, and has sought to diminish Palestinian presence through an array of targeted, systematic policies and practices. A special focus will be given to the issue of family unification, as well as the barriers that foreigners, including those of Palestinian descent, face in entering and residing in the Occupied Palestinian Territory (OPT) due to Israeli policies. While Palestinian citizens of Israel face numerous obstacles under law in regards to family unification, and are part and parcel of Israel's historic targeting of Palestinians, and although Palestinians in Gaza and foreign national spouses therein face extreme hardships due to Israel's prolonged closure of the area, the scope of the report has been limited to issues faced by Palestinians and foreigners in the West Bank, including Jerusalem. However, for comparison, and to highlight the discriminatory nature of Israel's policies, this report first examines entry, naturalization, and citizenship in Israel. Through illustrating some of the policies used in controlling the presence of foreign nationals in the OPT, the report seeks to also underscore Israel's unjust administration as Occupying Power, which obstructs life in the OPT, creating uncertainty and instability.
Read the full report here.
Al Jazeera: "Love in times of Israeli apartheid"
"Indeed, on Valentine's Day, there will be many partners and lovers who will suffer, being forcefully separated by racist policies and colonial borders. For Palestinians, this is just another fact of life that Israel enforces upon them.

So many Palestinians are unable to build their lives with their loved ones because they are simply banned from being in the same place."
Read the full piece here.
The Nation: "Love in the Time of Apartheid"
"Friday morning came; I crossed the checkpoint to get into the city I was born in, Jerusalem, and proceeded to take a bus towards Nazareth to meet my future in-laws and prepare for our engagement. Some of my closest family had been denied permits, but a few of my aunts and uncles as well as my late grandfather's wife and a handful of cousins were able to attend and loved it. They felt a connection to our new family and celebrated as if it were their own child's engagement. My fiancée's parents were the most loving and welcoming people I could hope for."
Read the full piece here.
---
January 2019
Haaretz: "Weaponizing medical treatment to keep Palestinians divided."
"But that's what Israel habitually does to patients from the Gaza Strip: If they have a relative who has moved out of Gaza to live and work in Ramallah, in the West Bank, for example, Israel prohibits them from leaving Gaza for essential medical care not available in Gaza. It conditions granting them an exit permit for medical treatment on the relative in Ramallah first returning to live in the Strip."
Read more here.
---
November 2018
This Week in Palestine: "Family Issues."
"Tens of thousands of Palestinians are affected by the fact that since 2000, Israel has all but frozen the process of family unification. In theory, it is still granted in exceptional humanitarian circumstances, but in fact, such circumstances are simply not acknowledged."
Read the full piece here.
Nature, International Journal of Science: "In the Palestinian territories, science struggles against all odds." 
"Foreigners need a visa from Israel to enter the occupied territories, and Palestinian universities have reported a sudden increase in the number of faculty members who have had visa problems. A survey carried out by the Palestinian Ministry of Education found that in the past two academic years, more than half of the 64 foreign faculty members in Palestinian universities have had visas denied or delayed without explanation. At a press conference in July, Saidam said that the problem is 'undermining the quality of education and research programmes at our universities'."
Read the full article here.
Professional Staff Congress of the City University of New York (PSC-CUNY) Resolution 
"Resolved that in an act of solidarity, PSC-CUNY demand a halt to the attack on the academic freedom of Birzeit University faculty and students instigated by the Israeli government's practice of denying access to and presence of international educators and academics contributing to Palestinian's educational development and

Resolved that PSC-CUNY call on the AFT to convey to the Israeli government to adopt and implement a clearly documented and transparent policy enabling access to foreign nationals who are coming to educate or to promote educational development in Birzeit and other Palestinian universities and

Resolved that all entry denials and visa extension refusals issued to international academics be remedied by relevant Israeli authorities without delay."
Read the full resolution here.
Scholars at Risk Network, Academic Freedom Monitoring Project:
"Scholars at Risk is concerned about apparently arbitrary restrictions on travel and immigration status of foreign university faculty, which inevitably harm universities by divesting them of long-term faculty and  limit the international exchange of ideas on campus. Restrictions on travel intended to restrict academic freedom, freedom of expression, or related rights may violate applicable international humanitarian law or human rights standards. These include the International Covenant on Civil and Political Rights, to which Israel is a party, and which protects the "freedom to seek, receive and impart information and ideas of all kinds, regardless of frontiers." Authorities have a responsibility to protect academic freedom and not to interfere with academic activity, so long as it is undertaken peacefully and responsibly. In addition to the harm to the immediate victim, travel restrictions targeting higher education institutions have a chilling effect on academic freedom and undermine democratic society generally."
Read more here.
Haaretz: "Saved From Deportation, Jewish-American Activist Approved for Israeli Citizenship."
"Her deportation was averted after two lawmakers from the left-wing Meretz party intervened on her behalf. After undergoing questioning at the airport for two-and-a-half hours, Weinberg-Connors was told that she would be allowed to enter the country on the condition that she not visit the West Bank without a permit from the Coordinator of Government Activity in the Territories."
Read more here.
---
October 2018
Middle East Monitor: "UK urged to stand up for Palestinian education."
"The UK government has been urged to "stand up for Palestinian students and educators", in a letter sent yesterday by Friends of Birzeit University (Fobzu) and representatives of major education unions.

The letter, signed by the heads of the University and College Union (UCU), National Education Union (NEU), and Educational Institute of Scotland (EIS), as well as the deputy general secretary of NASUWT and national secretary for education at UNISON, expresses 'concern about the declining access to the occupied Palestinian territory and the impact this is having on Palestinian education'."
Read the full article here.
Friends of Birzeit University and British Academic Unions: Letter to The Rt Hon Alistair Burt MP
"As a new academic year begins in Palestine, we therefore request that the government respond to the demands of Palestinian students and teachers and:

1. Support international efforts to hold Israel accountable for its violations and ensure its adherence to international law;

2. Stand up for Palestinian higher education and demand an end to Israel's arbitrary and harmful practice of restricting and denying access of Palestinian universities to international staff contributing to Palestinian educational life;

3. Defend Palestinians' right to education by taking action to ensure Israel fulfils its international obligations and adopts an entry and residence policy for foreign nationals in the oPt that is clear, documented and transparent."
Read the full letter here.
British Society for Middle Eastern Studies: "Letter from BRISMES protesting against Israeli violations of Palestinian academic freedom."
"These measures appear to have been implemented in an arbitrary and opaque manner. They have forced professors and staff to quit their jobs and even to leave the country. They stifle hiring and employment processes. They restrict research and teaching. They disrupt administration. They imply stress and humiliation for the Palestinian academic community in general. These measures clearly violate Palestinian and foreign nationals' academic freedom and further degrade Palestinian teaching and research."
Read the full letter here.
Haaretz: "Israel Seeks to Deport to Brazil Man Who Has Lived Almost Entire Life in West Bank."
"The case highlights problem of tens of thousands of Palestinians under constant threat of deportation, due to Israel's freeze of family reunification requests."
Read the full piece here.
Letter to the Editor, The Guardian: "Israel must lift its bar on US student Lara Alqasem."
Denying entry to foreign students based on political beliefs or ethnic heritage is an attack on academic freedom. As professors who are committed to academic freedom, and as humans who reject all forms of racial profiling, we are calling on the Israeli authorities to permit Lara Alqasem to enter Israel and pursue her studies.
Read the full piece here.
Press Release, PLO Department of Culture and Information: "Dr. Ashrawi meets with diplomatic representatives."
"In that context, Dr. Ashrawi stressed, 'Current conditions are unlawful and unsustainable. Families are torn apart, institutional sustainability is undermined, and healthy social and economic development is blocked.  We call on the international community to bring Israel to comply with international law and international humanitarian law and ensure its immediate articulation and implementation of clear and consistent procedures for administering entry into and removing restrictions on movement and longer-term stay in occupied Palestine.'"
Read the full piece here.
---
September 2018
"Palestinian students have few options to study abroad, so if they are to acquire a quality education with an international outlook it is vital that local universities be able to tap into international expertise. Yet residency cards have been denied even to some Palestinian-born faculty who have sought to pass on to local students the invaluable knowledge and skills they derived from an education in the US or Europe."
Read the full piece here.
"Whatever one's position on the Israel/Palestine conflict, this seems to me a clear case of the exercise of arbitrary and discriminatory power, the violation of the academic freedom of universities (to chose their own faculties) and of faculty members (to teach in positions for which they have been hired)."
Read the full piece here.
---
August 2018
Latest RTE Situation Update – August 2018
Download the full update here.
972 Magazine: "Israel is making it impossible for foreign nationals to live in the West Bank."
"Approximately tens of thousands of foreign nationals and their family members who are residents of the West Bank are harmed by this policy. However, the issue rarely receives news coverage, both in Israel and the West…What is especially frustrating is the fact that the countries whose citizens are impacted by this policy completely ignore it."
Read the full piece here.
Call to Academics

: Endorse Birzeit University's statement by contacting Ghassan Khatib: gkhatib@birzeit.edu
Click here for other recommended actions.
The Palestinian Ministry of Civil Affairs will now provide receipts for tanseeq applications (for those applying for

work-related visas

, and to lem shemil (family unification) applicants, including dates of application and transfer of file to Israel.
Call to

United States Citizens

to submit their case to the United States Consulate in Jerusalem. Learn more here
. 
Middle East Studies Association Letter to Israeli Ministers:
"We therefore call upon you to ensure that these professors can renew their visas, and that the academic restrictions, whose sole purpose is to make it exceedingly difficult for foreign nationals to work in academic institutions in Palestine, be abolished immediately. More specifically, we ask that Israel abolish these random denials of entry to foreign nationals traveling to the West Bank and Gaza, adopt a transparent policy, and provide assurances that academics who have been unjustly denied entry will be allowed to re-enter the West Bank and Gaza. We also ask that the Israeli authorities cancel the policy that restricts foreign academics to the West Bank, and respect their right to freedom of movement."
Read full letter here.
---
July 2018
Haaretz Opinion: "Destroying Palestinian Universities"
"As Israeli students are finishing their final exams, Palestinian students in the occupied territories don't know whether their institutions will be opening for the coming academic year or if their lecturers will continue to teach, as dozens of lecturers with European and American citizenship are being expelled."
Read full piece here.
RTE Press Release: "Palestinian University professors threatened with expulsion from West Bank"
"On 8th June 2018, seven international faculty members at Birzeit University (BZU) — one-third of the international staff at the university — were refused visa extensions by the Israeli authorities. This development portends a dramatically negative impact on education at BZU, and ultimately for many other Palestinian universities, as it will further extend the isolation of Palestinian universities from the global academic community, reducing their capacity to maintain internationally recognized standards of higher education."
Read full release here.
Birzeit University Press Release: "
Birzeit University condemns breach of academic freedom after academics forced to leave Palestine"
"If this policy continues, Palestinian universities, including Birzeit University, will be further isolated from the global academic environment. Our ability to deliver a world-class education will be further compromised if we lose the international perspectives, diverse professional experiences and high-level skills these faculty members crucially bring to Palestinian academic life and the campus environment as a whole."
Read full release here.