July 2019 Update: 
After three consecutive academic years during which Israel has intensified its efforts to force international lecturers to leave the country, Birzeit University, Al-Haq, and Adalah – The Legal Center for Arab Minority Rights in Israel, are demanding an immediate halt to this policy targeting Palestinian academic freedom and isolating Palestinian institutions of higher learning. Birzeit University – despite operating under Israeli military occupation – must be guaranteed the ability to exercise its right to freedom of education.
In a letter sent on 30 April 2019 to Israeli Interior Minister Aryeh Deri, Israeli Attorney General Avichai Mandelblit, Israeli Chief Military Advocate General Sharon Afek, and the Israeli military's Coordinator of Government Activities in the Territories (COGAT) Kamil Abu Rokon, Birzeit University, Al-Haq, and Adalah demand that Israel:
lift the restrictions preventing international academics employed by Birzeit University from staying and working in the West Bank;
refrain from imposing arbitrary restrictions on the duration of stay or extension of stay for international academics;
order the publication of a clear and lawful procedure for issuing entry visas and work permits for international academics in the West Bank, which will enable the university to manage and maintain its academic freedom.
Read the full press release here.
—
20 July 2018
Dear friends,
Please stand with us in protecting the Palestinian people's right to education. The past year has seen an intensification of Israel's long-standing policy of undermining Palestinian education at all levels. Just last week, Israeli occupation bulldozers demolished mobile classrooms in Al-Tawani neighborhood in the southeast of Yatta in the Israeli-occupied West Bank. Meanwhile, in Khan al-Ahmar, a small Palestinian community east of Jerusalem, dozens of schoolchildren welcomed the new school year a month and a half before it officially starts, in an attempt to stop the impending demolition, not just of the village's sole school, but of the entire village. After the High Court of Justice issued an injunction against the demolition last week, the state asked the court to exclude the school from its ruling, so it could demolish it and prevent the school year from starting early.[1]
A less visible but no less devastating part of this policy involves Israeli-imposed entry and residency restrictions on international academics, which have severely diminished opportunities for development of faculty, courses, and research programs at Palestinian institutes of higher education. On 8th June 2018, seven international faculty members at Birzeit University (BZU) — one-third of the international staff at the university — were refused visa extensions by the Israeli authorities; several others have already been obliged to leave the country.
While international academics seeking to enter or work in the occupied Palestinian territory (oPt) have long faced obstacles, the situation has dramatically declined over the past year. Since 2017, foreign nationals wishing to maintain a presence in the oPt, whether for reasons of work or family unity, have faced an alarming escalation in the rejection of visa extension requests and in the frequency and range of arbitrary demands and conditions imposed by the Israeli authorities. (See for example: https://www.aljazeera.com/news/2018/07/foreign-residents-palestinian-territories-denied-visa-renewals-180713112441505.html ). Palestinian educational institutions have been hard hit by Israeli denials or restrictions on entry and presence in the oPt, as evidenced by the recent survey of Palestinian universities undertaken by the Palestinian MOEHE. Of the eight universities responding, over half of all foreign national faculty and staff have been negatively affected over the past two academic years causing serious disruption to the academic programs and administration of these institutions. Moreover, it has undermined Palestinian universities' ability to attract further external expertise as foreign academics are deterred from accepting teaching and research posts by the arbitrary rejections and destructive restrictions imposed by the Israeli authorities. Schools have also been hard hit. (See for example: https://www.haaretz.com/middle-east-news/palestinians/.premium.MAGAZINE-israel-s-ultimatum-to-a-revered-palestinian-principal-and-change-agent-1.6137066?=&ts=_1531586701562 ).
Act now to help us protect the right to education and basic academic freedom for Palestinians.
Endorse Academia for Equality's petition: "Guarantee full freedom of movement for international academics working at Palestinian academic institutions!" here.
Endorse Birzeit University's statement by contacting Ghassan Khatib: gkhatib@birzeit.edu
Call for an immediate halt to Israel's practice of demolishing schools and other institutions of learning and culture.
Call for an immediate halt to Israel's arbitrary and abusive practice of denying entry to foreign nationals traveling to the oPt to promote educational development
Demand Israel's adoption and implementation of a clear, documented, and transparent policy enabling unhindered access to the oPt by foreign nationals who are coming to educate or promote educational development
For more information, please see documents below or contact RightToEnter@gmail.com.
[1] https://972mag.com/how-to-fight-the-demolition-of-a-west-bank-school-start-the-year-early/136725/
---
STATEMENT: Birzeit University: "UPDATE: Birzeit University continues to lose international faculty as Israel persists in discriminatory policy." November 2019.
LETTER: University and College Union: "Restrictions on foreign nationals working in Palestinian universities." October 2019. 
LETTER: California Scholars for Academic Freedom: "Letter to Israeli President Netanyahu re Professor Widad Barghouti's Administrative Detention Without Cause or Recourse to Due Process." September 2019. 
LETTER: British Society for Middle Eastern Studies (BRISMES): Letter to Israeli Ministers, September 2019. 
LETTER: Middle East Studies Association: "Letter to Israel authorities about restrictions on international academics working in Palestinian universities." September 2019. 
LETTER: Scholars at Risk Network: "Concerns About Restrictions on Scholars' Ability to Travel to the West Bank." September 2019.
MEDIA: Palestina Libre: "Agrupaciones profesionales y sindicales de Chile exigen a Israel respeto a la libertad académica en Palestina." September 2019.
MEDIA: Haaretz: "Israeli University Heads Say Won't Intervene in Discrimination Against Palestinian Schools." August 2019. 
MEDIA: National Public Radio: "Reversing Earlier Ban, Israel Permits Limited Visit For Rep. Rashida Tlaib." August 2019. 
OPINION: Truthout: "Israel Systematically Blocks International Scholars From Reaching Palestine." August 2019. 
BLOG: LRB Blog: "Concrete Conditions." August 2019. 
MEDIA: Al Fanar Media: "Palestinian Universities Say Israeli Restrictions Force Foreign Professors Out." August 2019. 
LETTER: American Comparative Literature Association: "ACLA Letter in Support of Academic Freedom Campaign." August 2019. 
LETTER: American Anthropological Association. August 2019.
LETTER: Chilean Academics: "Academicos de Chile for Libertad Academica en Palestina (Chilean Academics in Support of Academic Freedom in Palestine)." August 2019. 
LETTER: Historians for Peace and Democracy (H-PAD). "Letter to Israeli Officials." August 2019. 
LETTER: Central Unitaria de Trabajadores de Chile (Central Union of Workers of Chile, CUT). August 2019.
MEDIA: Academe Blog: "Palestinian University Fights Israeli Visa Restrictions." July 2019. 
MEDIA: Mondoweiss: "Palestinian universities fight back against Israel forcing international academics out of the country." July 2019.
MEDIA: Electronic Intifada: "Israel isolates Palestinian universities." July 2019.
MEDIA: Times Higher Education: "Israel's restrictions on international academics at Palestinian universities must be opposed." July 2019.
STATEMENT: The Italian Society for Middle East Studies (SeSaMO). July 2019.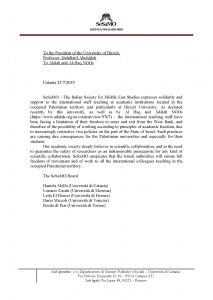 .
MEDIA: Inside Higher Ed: "No Passage to Palestinian Universities." July 2019.
الغد: إسرائيل ترفض تجديد تأشيرات المحاضرين الأجانب بالضفة
LETTER: "Limitations and restrictions to foreign nationals teaching at Palestinian universities."(Middle East Studies Association, July 2019)
OPINION: Haaretz: "Israel's Academy for Indifference." July 2019.
MEDIA: Haaretz: "As Israel Tightens Entry Rules, Foreign Lecturers at Palestinian Universities Forced to Leave." July 2019. 
MEDIA: Middle East Monitor: "Israel restricting visas for academics visiting Palestine universities." July 2019. 
MEDIA: University World News: "Israel blocks international academics in West Bank, Gaza." July 2019.
ADALAH PRESS RELEASE: "Israel forcing international lecturers out of West Bank Palestinian universities." July 2019.
LETTER: "Letter to The Rt Hon Alistair Burt MP." (Friends of Birzeit University and British Academic Unions, November 2018)
Scholars at Risk Network, Academic Freedom Monitoring Project, November 2018
RESOLUTION: "Professional Staff Congress of the City University of New York (PSC-CUNY) Resolution." (Professional Staff Congress of the City University of New York (PSC-CUNY), November 2018)
LETTER: "Letter from BRISMES protesting against Israeli violations of Palestinian academic freedom." (British Society for Middle Eastern Studies, October 2018)
STATEMENT: "Statement of the Executive Committee of the American Comparative Literature Association on Scholars in Palestine." (American Comparative Literature Association, September 2018)
LETTER: "Letter to Major General Kamil Abu Rukon about systematic interference by Israeli authorities in Palestinian education, academic freedom, freedom to travel and to teach, study and research." (California Scholars for Academic Freedom, August 2018)
STATEMENT: "USACBI condemns Israeli violations of Palestinian academic freedom." (US Campaign for the Academic and Cultural Boycott of Israel, August 2018)
RTE Call to Action by Academic Networks, Global Civil Society & Individuals (Right to Enter Campaign, August 2018)
LETTER: "Arbitrary demands on foreign national academics working in Palestinian universities." (Middle East Studies Association, August 2018)
Academia Undermined Israeli Restrictions on Foreign National Academics in Palestinian Higher Education Institutions – Recommendations (Right to Enter Campaign, July 2018)
Academia Undermined: Israeli Restrictions on Foreign National Academics in Palestinian Higher Education Institutions – IL Considerations (Right to Enter Campaign, July 2018)
Right to Enter Campaign Observations on The impact of Israel's denials & restrictions on entry & presence of foreign nationals to the oPt: Results of query to Palestinian higher education institutions  (Right to Enter Campaign, April 2018)
The impact of Israel's denials & restrictions on entry & presence of foreign nationals to the occupied Palestinian territory: Results of query to Palestinian higher education institutions (Right to Enter Campaign, April 2018)
From the archives:
Academia Undermined: Israeli Restrictions on Foreign National Academics in Palestinian Higher Education Institutions, May 2013
Israel refuses to allow a lawyer to leave Gaza to reach her studies in democracy and human rights in the West Bank – Gisha. July 1, 2010
The Right to Education Campaign's Submission to the UN (July 08)
Student Still Trapped in Gaza (Gisha, July 08)